We sell Rhino Tuff Paper punch dies.
Specially designed top lid gives the punches a "V" stager so the middle punches contact the paper first and punch outward from the middle eliminating any paper curl.
Standard Tool Features
All our Rhino dies are available in industry Standard Patterns and hole sizes to match other equipment, and very competitively priced.
A hard bronze guide material allows us to maintain a very precise fit with the punch pins, without scoring the punch surface over the life of the tool.
Precision ground and hardened tool steel punches act like a bearing in the bronze guide and allows us to maintain a tighter fit for excellent hole quality and durability.
All our dies have a Hardened and ground tool steel bases, giving you a hard cutting edge.
Integral oil wick provides efficient oiling and uniform lubrication around the punch pins.
Two strong magnets secure the quick release top for quick and easy punch removal.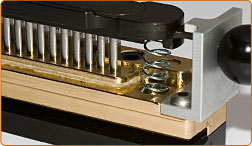 Call for a quotation.
You'll be surprised at our good prices.